SecuSwitch makes switching SMARTER
SecuSwitch offers you secure switching of up to 144 relays via smartphone. You decide what you connect to your SecuSwitch-HUB and determine in the basic settings how it is switched – by time (interval) or by state (on/off).
Via an intuitive dashboard you determine which persons are allowed to switch which relays at which time of day. This includes a wealth of application possibilities, such as the switching of:





The SecuSwitch-HUB 16000/e
Into the local network, power on and go…
The SecuSwitch-HUB is installed centrally in the building. The basic system includes a high-performance computer and 16 relays for free use. SecuSwitch is equipped with a high-quality control cabinet (IP55) from RITTAL.
The power supply and the network connection are accessible from the outside. For connecting the relays, through holes are available, which are equipped with cable gland M20.
The SecuSwitch-HUB is the basis for switching. It is equipped with 16 relays and ensures secure communication with smartphones via the SecuSwitch gateway.
The SecuSwitch-HUB can be expanded modularly with up to 144 relays. Each relay has a switching capacity of AC: max. 230V/10A and DC: max. 30V/10A.
Presence detection
To use the smartphone to switch a relay – for example, to open a door or a rolling gate – SecuSwitch checks whether the smartphone is in the vicinity. In the basic settings, you can determine a presence detection for each relay.
The following options are available: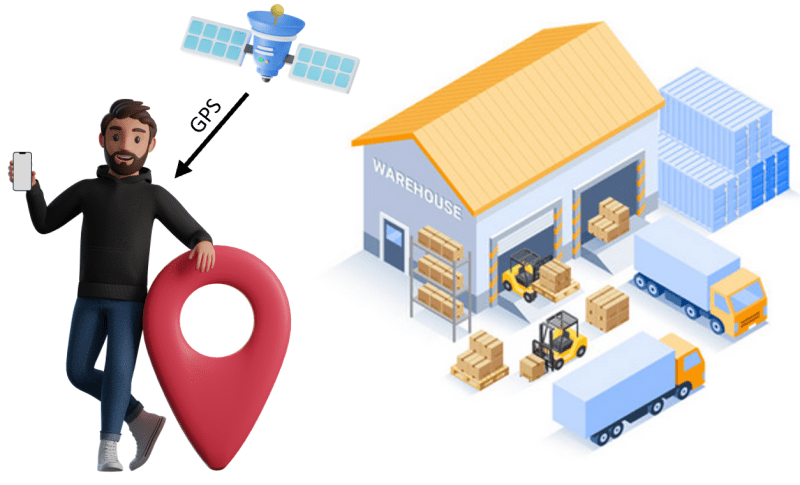 Define once in the basic settings (longitude and latitude) where the user should be. With a radius you can then define the tollerant. The position is checked during the request.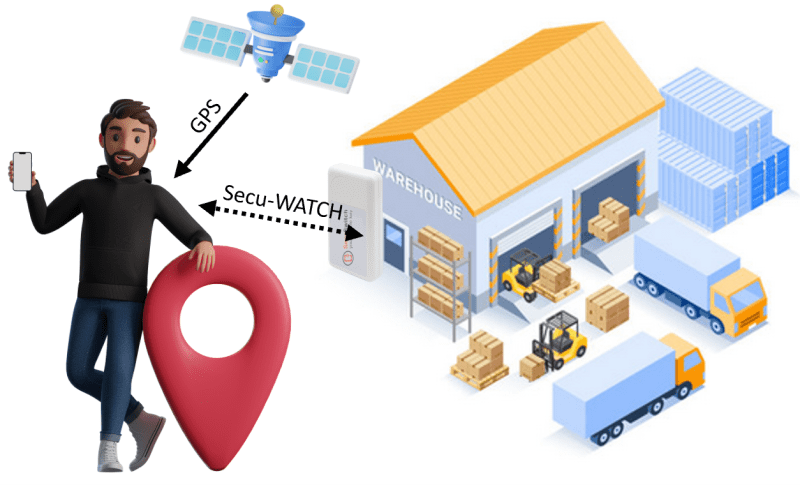 Optionally, Secu-WATCH can be installed in an indoor location – usually next to an entrance. When requested, communication takes place with the smartphone. The replaceable batteries ensure low maintenance with a runtime of over 3 years (W/H/D: 7 cm x 14 cm x 3 cm).
Security through Device Registration
The first time you set up a location for your customer/tenant via the SecuSwitch app, not only the user name and password are verified.
During this process, a security code (SMS) is sent to the mobile phone number.
After entering the security code, the device is registered and stored in SecuSwitch with a unique device ID, so that in the future only requests from the user will be accepted by this device.
Advantages
Simple Management of access authorization based on User- and/or Group Level
No need to replace locks when keys are lost
No additional hardware, such as keypads, readers, etc. required at entrances (investment, installation, protection against vandalism)
Protection of already made investment, as existing installations (doors, gates, etc.) can be connected
Security through device registration, location tracking via GPS and Bluetooth
Integration with existing CRM systems, such as Storeganise, etc.

Open Gates and Entrances
Secure. Simple. Robust.
Connect your existing locking systems to SecuSwitch and provide your employees and tenants with secure access to buildings, premises and grounds.
With the use of SecuSwitch, you no longer need any additional hardware and can dispense with the distribution of keys, various remote controls or externally mounted equipment such as key pads or similar.
Centralized user management allows you to grant or revoke access to people – on a per-entrance basis.
With the local SecuSwitch presence detection you make sure that the persons for a successful opening are on site.
For our customers, the topic of security is very important to us.
In addition to the existing video surveillance, SecuSwitch convinced us, among other things, because of the integrated monitoring of our entrances and our rolling gates as well as the proactive alarming.
With the interface to our customer management system we have a much lower effort. Contract start and end dates with our customers have a direct impact on our new SecuSwitch access system.
Learn more about the successful implementation of SecuSwitch at DLM Selfstorage GmbH.
Manage your employees, suppliers and tenants – simply and transparently
SecuSwitch provides you with an intuitive dashboard for basic settings and user and group management. For maximum security and availability, all data is stored locally on the SecuSwitch-HUB.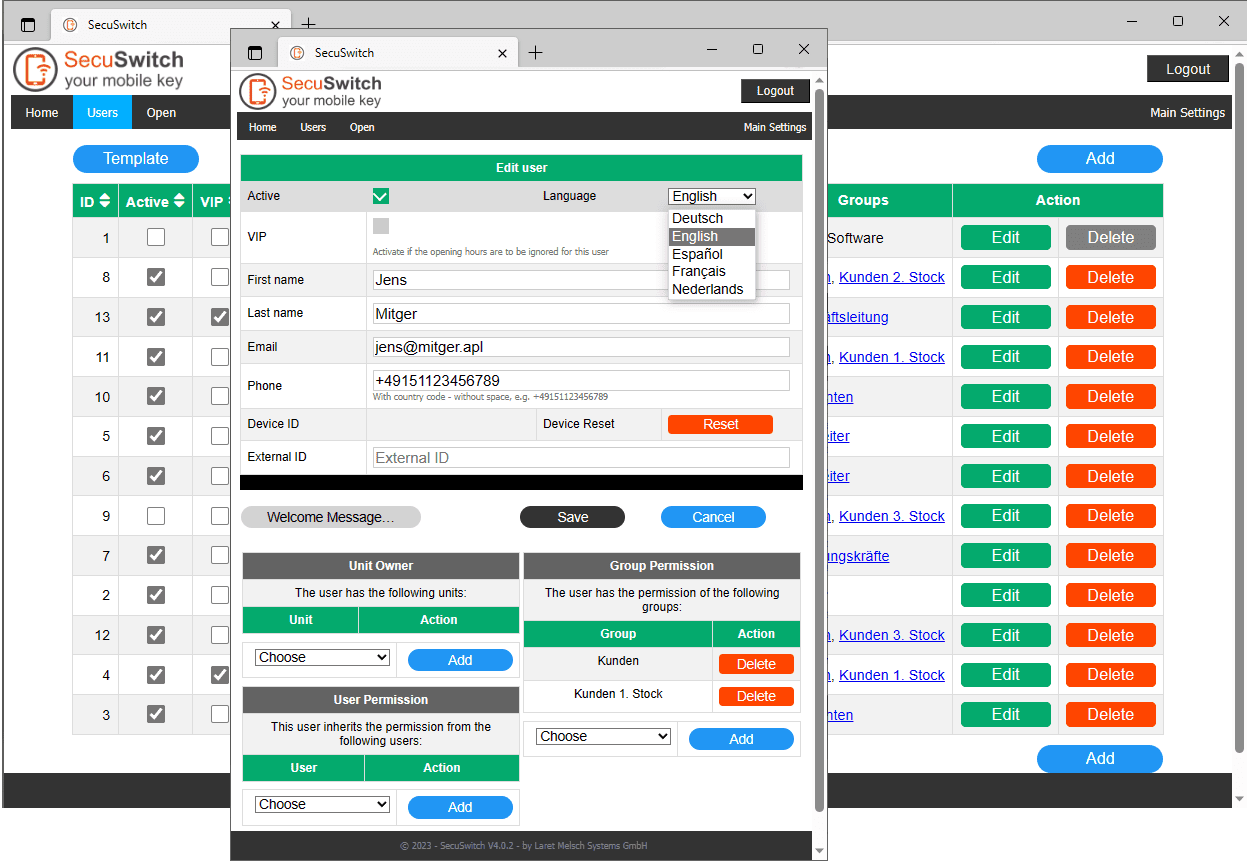 SecuSwitch works with UNITS, which you can create yourself once. A UNIT can be for example a gate, an elevator, a door or a rolling gate. In the settings you define which relays this UNIT uses.
SecuSwitch offers you a comprehensive permission system. Decide in the settings the permission for the use of UNITS. You can give a user the permission of one or more group(s), assign the ownership of a UNIT or inherit the permission of another user to the user.
Access the dashboard on your local network and manage:
User (access only with presence detection)
Activate/Deactivate
Which units can be used
Reset passwords and device registration
Administrators (opening UNITS from anywhere)
User Groups
different opening hours, which you can assign to groups
UNITS (Definition and monitoring)
Interfaces to external CRM-Systems
Name and address of the site
Name of the units and the buttons
Image of your site to be displayed
Link to your privacy policy
Link to your help web page (contact information)
Ereignisanzeige (Log-Datei)
Datenbanksicherungen (Backup/Restore)
Integration with third party
With the event and alarm server integrated in SecuSwitch, you can integrate third-party products, e.g. the WI-FI capable products from Shelly, for monitoring windows and entrances. With the use of WI-FI relays SecuSwitch can be extended.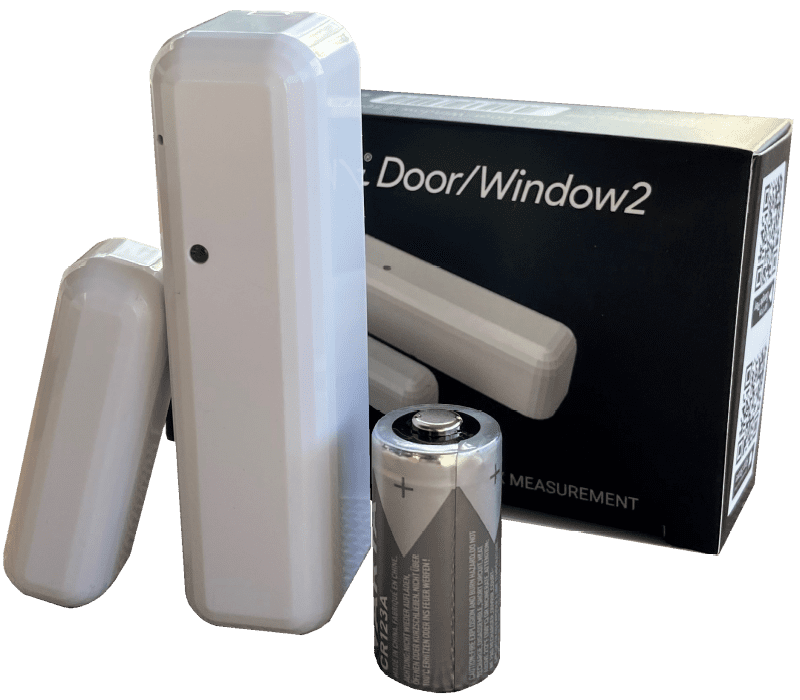 Contacts
Relays
Interfaces to self-storage applications
Seamless integration with Storeganise
The SecuSwitch interface to Storeganise can be set up in just a few minutes. After that, the authorization for opening entrances and/or compartments via the smartphone is based on the customer statuses in Storeganise.
Comprehensive Features for Storeganise
Automatic activation of user upon move-in
Automatic deactivation of users when moving out
Automatic deactivation of users in case of payment delays – optional if users in a site have overdue payments
Automatic deactivation of users if they were manually deactivated in Storeganise
Automatic notification of user with setup information on smartphone – optionally via:

Storeganise email notification
SecuSwitch email notification

Resetting a registered smartphone via the Storeganise application
Access to SecuSwitch group authorization (e.g. for employees who are not tenants)
Installing SecuSwitch App
You can download and install the free App for your Smart Phone. To do so, click on one of the following buttons. You can find more information and the requirements at App.
Note: The SecuSwitch App requires a SecuSwitch-HUB installation and is provided to SecuSwitch operators and their customers and tenants. It is a "means to an end" and has no value without a SecuSwitch-HUB is connected.